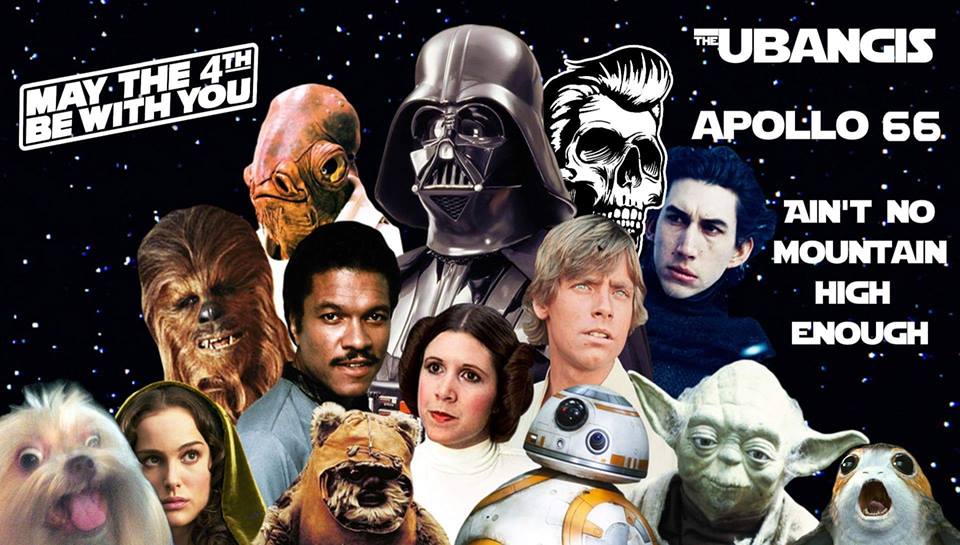 KICK OUT THE JAMS YOU MUST!

Saturday, May the 4th: The Ubangis return to the American Legion in Silver Spring, Maryland (905 Sligo Ave, Silver Spring, Maryland 20910)! Also appearing are our good fiends and sonic trash-masters Apollo 66 and the Maryland debut of Ain't No Mountain High Enough (ex- History Repeated, Immoral Discipline...). A fantastic night of primitive garage, trash, punk and ROCK-N-ROLL! Also, since it is May the 4th, a special Star Wars costume contest will be held! Come as your fave Star Wars character and win prizes for best and most creative costumes! The doors are at 7 pm and the show starts at 8 pm. I believe we go on second. This is an all-ages show! Admission is free and there will be a donation bucket out.
The Facebook event page for the show is at https://www.facebook.com/events/1627255777417001/ .
Live long and perspire. I mean... May the FOURTH be with you!
MORE GIGS ARE IN DA WOIKS!! STAY TUNED!!