ALL THE NEWS FIT TO BANG!
In December of 2010 The Ubangis turned 20 years old! That was the date of our first gig ever. It was at DC Space with The Wanktones. Were you there?
December 1st, 2011 is 20 years from Saucy Randy's first ever live performance with The Ubangis! It was at Kim Kane's birthday party! Can you guess how old Kim was? Here's a hint: If you were there then you are old like us! Anywho, the next time you see Saucy slap him on the back and say "Congrads!".
We've put all the video and audio clips together on 1 page, the Look & Listen to The Ubangis page! Check it out to see our recent appearance on Arlington Cable tv's "Larz From Mars" show! It's the UBANGIEST!
OLD NEWS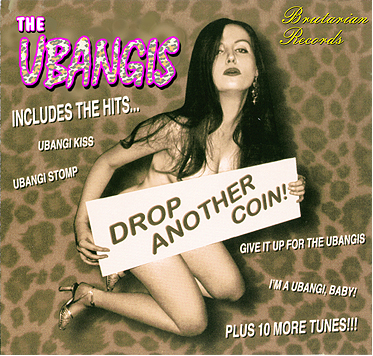 We are happy to announce that Brutarian Records, a label of devine taste, has just reissued our first CD from 1998 "Drop Another Coin" in limited edition of 1,000 copies! It is available for $10.00 postpaid to anyplace on the lovely planet! Click the cover below to view the original press release from '98! And, as if they weren't gluttons for punishment enough, Brutarian will also be re-issuing the ultra-rare Date Bait CD compilation "Going Nowhere Fast" which was only available before as a limited edition Italian import. And so to Dom at Brutarian we say THANX BUDDY!! Yer da ginchiest!!
ONLY $10.00 POSTPAID TO ANYPLACE ON EARTH!!!
ORDER ONLINE SECURELY FROM TRASH PALACE
Drumroll please... We are happy to announce the return of UMF! Yes, you heard right! Eric "UMF" Tavela, our bass player circa 1994 to 1999 has returned to the band! Whoda' thunk it? Yes, that cute, young, dapper and talented bass twanger returns for more primitive poundin', not quite as young but just as dapper and even MORE talented!
In memory of Mr. Ellas Otha Bates better known as Bo Diddley who has just left this Earth we bow our heads and say in sincere tribute UNGAWA!!
OUR NEWEST CD "EXPLOIT YOURSELF" IS ON SALE NOW! YIPEEEE!!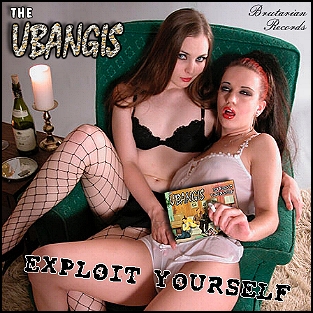 ONLY $10.00 POSTPAID TO ANYPLACE ON EARTH!!!
ORDER ONLINE SECURELY FROM TRASH PALACE
Yes, heck hath frozen over!! Once again Monsewer Salemi comes to the rescue and, after not only producing the dang thing he, glutton for punishment that he is, decides to release it himself on his recently formed Brutarian label! (an offshoot of the incredibly hip "Brutarian" Magazine natch.) We are also very lucky to have aquired the "services" of 2 lovely actresses, the infamous Misty Mundae and Ruby La Rocca, queens of the New Jersey sex & scream screen, who appear together as cover models on our moisture resistant cover! Again, here's the schpeel:
Yes, "Exploit Yourself" gives you what you've come to expect from yer ever lovin' Ubangis, plus a whole lot more! Raw and sexy rock-n-roll to clear out the riff-raff, thick & hard instro-mentals designed to stir your primal core, the moody "Vampire Blues" theme we wrote for the Jess Franco movie... And a few surprises too! A little dash of theremin, a hint of piano, a slice of organ and... what's that I hear? An occasional horn section!!?? But before you worry that we've turned into fucking Chicago or something, fear not! We are back in your face with honest to Gawd, 100% grade-Z American PUNK ROCK the way the good Lord (or whomever) intended it to be! Can I get an Amen, brutha'!?! We put a lotta' work into this one folks. I ain't shittin' ya! You can check out a few little tidbits (just like they do on Lame-azon.com) or the complete title track on our MySpace page. This CD was co-produced by Dom Salemi from Brutarian Magazine. He is GOD!
Here is the track listing:
1. Intro
2. You're The Livin' End
3. Gnat Pussy
4. Come On Down To The Gutter
5. Monkey Grip Friction
6. Lickity Slick
7. The Stroll
8. Dancing To The Rock-N-Roll
9. Sartana Surfs In Rome
10. Exploit Yourself
11. Diablo Del Mar
12. Soul
13. Vampire Blues
14. It's Gonna Get Worse Before It Gets Better
15. The Green Slime
16. Baby Let Me Bang Your Box
17. Ripe For Pipe
Come join the Ubangis Facebook page!
Visit the Ubangis on MySpace.com!