NON DeCeased Records RELATED STUFF: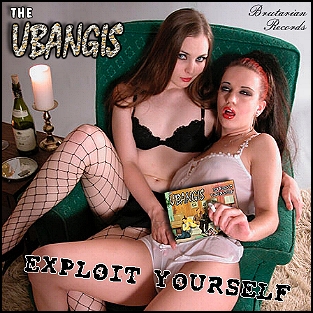 DSI 14: DATE BAIT-I'm Outta' Here b/w Strange Movies 7" SINGLE Date Bait's lst record ever on this VA label. 900 pressed. SOLD OUT! SEE BELOW
DSI 14: COLLECTOR'S EDITION: 100 #'d copies of the above in a different colored sleeve, each comes with an original cartoon drawing by a band member. (your's truly) $8.00
RSE198: DATE BAIT-I Split On Your Grave ALBUM 1989 recorded fulllengther 'sounds good if ya really crank it up loud. Originally issued on the French New Rose label. Personally, we'd recommend checking out the DB singles first. This label really fucked this thing up! LP $10.00
CECC-00633: JAPANESE REISSUE OF ABOVE CD on Overdose - Basically the exact cd except for the Japanese liners notes! What's it say? SOLD OUT!
GH 169: DATE BAIT-Wild Woman b/w Head In The Shed 7" SINGLE 500 copies on red vinyl from the Get Hip label $5.00 [SEE PIC BELOW!]
PV 001: DATE BAIT-We Are Going To Eat You b/w I Want To Hold Your Hand (live/Maxwell's in New Jersey) AUSTRIAN IMPORT 7" SINGLE lst release on the newly formed Pure Vinyl label, this is the newest platter to Date. (on swirled vinyl, 500 copies) $5.00 [SEE PIC BELOW!]
PV 0 : UBANGIS-I Want Your Blood Tonight b/w I'm A Ubangi, Baby and Death Of A Surfer-AUSTRIAN 7" SINGLE, 500 pressed of which about 100 are limited "blood-spattered"copies! W/ 2 songs from the cd & 1 unreleased instro. "...Blood..." was used in Jess Franco's "Lust For Frankenstein" movie! $5.00
Brutarian Quarterly presents It Comes From Beyond! CD (Brutarian) - Amazing new rock-n-roll comp featuring our own in-house trash smashers The Ubangis doin' Theme from "The Green Slime" (recorded live at Chiller Theatre)! 26 amazing tracks including The Booty Olympics, Adam West, Electric Frankenstein, The Photon Torpedoes, The Kowalskis and many others! Only $5!
Margaret Doll Rod - Enchante CD (Brutarian) - Solo smut from the guitar grind gal Margaret of the Demoltion Doll Rods! Recorded in 2002, Marge plays all intruments on cover tracks Hey Gyp (Donovan), Hidden Charms (Link Wray), Boom Boom (John Lee Hooker) and originals like Who's Gonna Rub Me, Hot'n'Easy and Pink Taxi Cab! 10 sexed-up RAWkers! Brutarian strikes again on this limited edition re-issue of her previously impossible to find out-of-print solo debut! $5