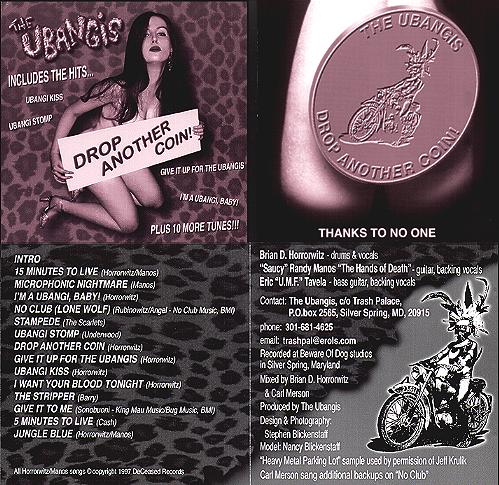 DECEASED RECORDS proudly resents...
THE UBANGIS
"DROP ANOTHER COIN" CD
THE UBANGIS IN 1997 WERE :
Brian D. Horrorwitz- vocals and drums
"Saucy" Randy Manos "The Hands Of Death"- guitar
Eric "U.M.F." Tavela- bass guitar
********ABOUT THE 8-TRACK:********
(written by Dr. Horatio Penis in 1998 at the time of the "Drop Another Coin" CD release)
Sorry, cd. The Ubangis claim they spent hours writing, rehearsing and recording each song. Hmmmm... Sounds a bit fishy to me. I will admit that regardless of how much time they actually DID put in on this future beer coaster, it certainly does put most other contemporary "rock" cd's to shame. A hybrid of all that makes rock what it should be. The twangy reverb-drenched guitar of Saucy Randy, U.M.F.'s grungy thumpin' bass, and the primal poundin' & moanin' of drummer / singer Brian Horrorwitz. With nary a socially redeeming value, this music is designed to appeal to the primitive most animalistic core of the brain. Horrorwitz proclaims: "Our music is about sex in one way or another. Even our instrumentals are designed to appeal to that pelvis swingin' muscle that's easily provoked by a contagious beat. I recall the great apes, whose basic life consists of eating, sleeping, and fornicating. Now look at us so-called "evolved" species, are we really that much different? And "rock-n- roll"is, after all, a slang expression from days-gone-by that literally means "sexual intercourse" or, more specifically, "f*cking". A coincidence? I think not." B.s. philosophizing aside, "Drop Another Coin" really does pack a wallop. Shocking to the uninitiated, pleasing to "the little girls" that "understand". I thank you. --- Dr. Penis
********THE SONGS:********
1. Intro (2:12)-"The Ubangis in the house!" We don't do drugs, honest. A montage. Or a collage. This could be your basement. Or your daughter. "Hell, yeah!" Be afraid. Be VERY afraid.
2. 15 Minutes To Live (2:23-Horrorwitz / Manos)-"That yup on my car...That bitch at the bar..." A song based on / inspired by true incidents that occurred around 2 a.m. after a gig at a now defunct Washington D.C. club. We are all pacifists, but enough was enough!
3. Microphonic Nightmare (2:08-Manos)-Instrumental madness. Scary and unexpected. Like when you wake up and find your pillow missing. Graveyard sex music. Heavy and terrifying. Boo!
4. I'm A Ubangi, Baby! (2:28-Horrorwitz)-"I got a plate in my lip...because it looks so HIP!" Tellin' it like it is. In case you still don't understand, this will explain all. Music to felch by.
5. No Club (Lone Wolf) (3:18-Rubinowitz / Angel)-The awesome Tex Rubinowitz recorded this in the late 70's. We knew there was no way to touch the smooth rockabilly vocals of this local legend, so we "Ubangi-fied" the song giving it a lonesome creepy feel.
6. Stampede (1:50-The Scarlets)-A slammin' herd of rock-n-roll crashes through your living room wall, drinks all your beer, and rustles off with your wife. Before you know it they're gone. An unparalleled onslaught of boppin' to get your tootsies a-hoppin'. Truly an unrecognized 60's intstro shoulda'-been classic, resurrected by yers truly.
*7. Ubangi Stomp (3:27-Underwood)-"When it hits it drives a cool cat wild!" Yeah, of course we had to cover this one. But maybe it ain't what ya think! Un-rockabilly to mess up your ducktail and get doggy-doo on your blue suedes.
8. Drop Another Coin (3:14-Horrorwitz)-"Stick it in my ear...so I can hear you c-c-c-c-comin'!" Our anthem? A mini-epic homage to the peep-shows that have brightened the drab lives of thousands of lonely wankers. (I'm told.)
9. Give It Up For The Ubangis (2:10-Horrorwitz)-"I walked up to this woman, I dropped down on my knees and I prayed! I said..." Times're tough. Especially when you don't wear beer goggles. We all need to get naked and dance on the bar once in awhile. It's no shame to admit that we all just wanna be loved. But, you see, The Ubangis are "love"! So, GIVE IT UP!!
10. Ubangi Kiss (3:50-Horrorwitz)-"You bet...you'll get wet" And we ain't talkin' Singin' in the freakin' Rain, baby! Slow and grindin'... The new dance sensation that's sweepin' the floors. It may save the human race or something.
*11. I Want Your Blood Tonight (4:00-Horrorwitz)-"...you know I don't drink wine!" I dreamt this one, for real. Leaves you laying on the floor and then comes back for more.
12. The Stripper (3:05-Barry)-From the movie "Beat Girl" (aka "Wild For Kicks") comes this slow & saucy instro that whispers close in your ear, "Here's a dollar. Let me see what you've got.". Written by John Barry, the man that gave James Bond music to get shot by.
13. Give It To Me (2:55-Sonobuoni)-We didn't write this tune, but I WISH we had! This pretty much sums up whatever message (if ANY) that we are trying to convey. No heavy social statements here. Just "GIVE IT TO ME!!!". 'nuff said.
14. 5 Minutes To Live (2:27-Cash)-The theme to an intense crime film starring Johnny Cash as a REALLY bad bad guy! Just imagine this is the last thing you ever hear 'cause it MAY BE!.....
15. Jungle Blue (3:23-Horrorwitz / Manos)-It ends where it all began. Exotic instro blowout. Psychotic jungle mayhem. Voodoo ecstasy. What it is.
*THESE 2 TRACKS WERE USED BY JESS FRANCO IN HIS EPIC SEXY HORROR FILM "LUST FOR FRANKENSTEIN"!
Recorded at: Beware Of Dog studios in Silver Spring, Maryland
Mixed by: Brian D. Horrorwitz & Carl Merson
Produced by: The Ubangis.
"THE UBANGIS UNCOVERED" - A MESSAGE FROM THE BAND: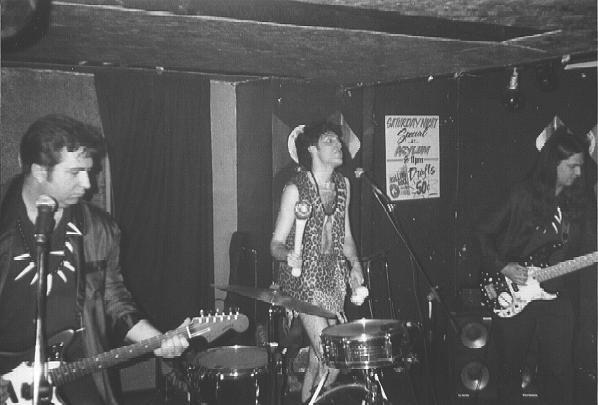 UBANGIS circa 1996
'Just a few short months ago we were just another unknown group of 3 singer musicians working in small clubs...and at small wages too!! Then our manager discovered us and put months of hard work into teaching us the art of recording (and believe us...it is an art). At least 10 hours of work was put into each tune on this cd. A dozen other tunes were started and junked!! Our manager is perfection and installed in us the confidence we needed to become a top group. As for our nicknames and costume bones & loincloths...well we decided that we wanted to be different and this was a good way of doing it!! Also each of us were employed at jobs and we were all afraid that our bosses wouldn't like the idea of employing rock and roll singers as... 1. A credit manager 2. Commodity buyer 3. Engineer. So the names & costumes were not to hide us from the public... but our guvernors (sic). When we were ready to "uncover", the agents, bookers, record company and other sundry employers screamed no!!! We would really love to be "uncovered". Can you please help us?'
---Saucy, Brian & U.M.F., THE UBANGIS
ENOUGH OF THIS!!
DeCeased RECORDS PAGE
(THE PLACE TO BUY "DROP ANOTHER COIN" AND OTHER UBANGIS' STUFF!)

UBANGIS HOMEPAGE
(FOR GIG INFO, BAND HISTORY AND MORE UBANGIS B.S.!)