Jess Franco's
LUST FOR FRANKENSTEIN
(1997, SHOCK-O-RAMA)
Starring Lina Romay, Michelle Bauer and Analia Ivars
Music by Jess Franco with Purr and The Ubangis
OUT OF STOCK!
AVAILABLE ON DOUBLE FEATURE DVD with "Tender Flesh" for only $9.98!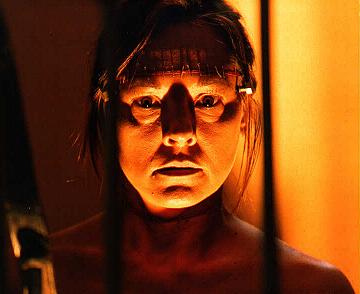 The Story: Lina Romay stars as Moira Frankenstein, the daughter of the famous Dr. Frankenstein. Upon returning to the home of her deceased father, she encounters her young widowed stepmother (Analia Ivars) with a lover and begins to remember the wild sessions of sexual torment at the hands of this twisted woman. One day she discovers the hibernating body of a female creature put together with the parts of dead people! The "monster" (played with gusto by Michelle Bauer), found in a trance-like state, awakens and scratches at the girl's chest! Tasting Moira's blood, she is revived long enough to plead with the girl to bring her more of the life-giving fluid! She then discovers a bizarre sexual "secret" about the monster and falls madly in lust! Obsessed with the passion rekindled by the creature's lovemaking, she sets out to fulfill its demands for fresh human blood! Her victims include a stripper (Amber Newman) and other poor unfortunates!
Review: Like all of Franco's more personal works, "Lust For Frankenstein", while not a high-tech production, certainly has some great things about it. The first lesbian Frankenstein movie ever, Franco handles the lovemaking scenes with an incredible verve that seems to be missing from the generic limp approach to sex in films of the 90's. Seemingly simple at first, "Lust For Frankenstein", like so many Franco films, has enough intricate things going on under the surface that it stands up to repeated viewings. In short, if you are a Franco fan, you'll find things to enjoy in this film. "Lust For Frankenstein" was the first Jess Franco movie to feature several songs by Trash Palace's in-house band The Ubangis! (see below)

x-x-x-x-x-x-x-x-x-x-x-x-x-x-x-x-x-x-x-x-x-x-x-x-x-x-x-x-x-x-x-x-x-x-x-x-x-x-x-x-x-
2 DISC DVD SET
Includes the feature film "Tender Flesh" plus many extras! See this page for DVD details!
ADULTS ONLY!
We also carry the "Tender Flesh", "Lust for Frankenstein" and "Mari Cookie and the Killer Tarantula" photo-comic books for $4.95 each!






"Lust For Frankenstein" is the first Jess Franco movie to feature original music by Trash Palace's own in-house cave rockers The Ubangis! Featured are the songs "Ubangi Stomp" and "I Want Your Blood Tonight", plus, in the American cut, a 3rd tune, the moody instrumental "Death Of A Surfer"!

Available for purchase exclusively from Trash Palace is The Ubangis full length CD from 1998 "Drop Another Coin" (pictured at left) on our DeCeased Records label for only $10.00 postpaid! CLICK HERE for track listing details! BUY

Also available on the Pure Vinyl label is the limited edition Austrian import 7" single "I Want Your Blood Tonight" which contains 3 tracks, 2 of which are featured in "Lust...": "I Want Your Blood Tonight" plus, on the flip-side, "I'm A Ubangi, Baby" (not in the movie) and the non-CD tune "Death Of A Surfer". Only 500 of these were ever made of which we received 100 copies, then each of those was custom "blood-splattered" making each cover unique! (see pic at left) Only $3.99! BUY
BACK TO "NEW & USED VIDEOTAPES"